About Us
JADRAN GOTTINO FOODS
Industriska bb.
1440 Negotino,
Republic of Macedonia

Telephone: +389 43 411 440
FAX: +389 43 411 440
e-mail: info@jadran-gottino.com
JADRAN Gottino Foods represents tradition, quality and success. From the foundation of the company in 1956 till 2007, our factory was producing only traditional sweets like Halva, Lokum, Tahini etc. and was the biggest producer in ex-Yugoslavia for this type of products. The continuous investment in new technologies and the improvement of our present production lines have made us one of the best conflectionary manufacturers in Macedonia and the Balkans...
At the beginning of 2007, our company started a completely new production line for filled croissants.
On October 15, 2009, our company has opened a new 2.5 million euro ($3.7 million) production unit in our factory in Negotino. Jadran's new production unit will increase the factory's annual production capacity to 7,000 tones and will raise its exports by 70%. The project is expected to create 100 new jobs over the next two years
Our research and development department is already working on several new projects that will spread the range of our production and will make us even more competitive in the confectionary products market.
The company currently operates under the umbrella brand of Gottino Foods, while the specific company brands are Jadran, Sungrain, Pick 'n Joy and Buono.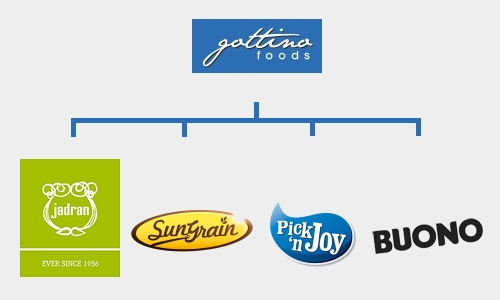 CERTIFICATION
Our main objective is to implement highest standards in our production while making our products available to consumers across all European and global markets. We have the HACCP and ISO 22000 certificates for our production facilities.
Our company is also a part of HRDP-HUMAN RESOURCES DEVELOPMENT PROJECT, a project financed by the European Bank Reconstruction.