News
JADRAN GOTTINO FOODS
Industriska bb.
1440 Negotino,
Republic of Macedonia

Telephone: +389 43 411 440
FAX: +389 43 411 440
e-mail: info@jadran-gottino.com
24.01.2013
Todor Kulakov, the manager of Jadran Gottino Foods, for the Macedonian economy magazine
31.12.2009
"Christmas for all of us" humanitarian action
Croissants, napolitanki, halva, lokum (delight), half a kilogram of products, that is what about 30 thousand children will receive as a Christmas gift from the famous Macedonian brand.
" We have decided to make a donation which will cover all children in all kindergartens in Macedonia to get a pound of our products, all children from homes for orphans and other vulnerable social categories " said Todor Kulakov, owner of Jadran Gottino Foods.
In the framework of the humanitarian action, Jadran Gottino Foods promoted a Christmas song, which is performed by famous Negotino singers.
14.10.2009
Macedonian Confectioner Jadran Opens 2.5 Mln Euro Production Unit
JADRAN Gottino Foods has opened a new 2.5 million euro ($3.7 million) production unit at its factory in Negotino. Jadran's new production unit will increase the factory's annual production capacity to 7,000 tones and will raise its exports by 70%. The project is expected to create 100 new jobs over the next two years
2.07.2009
Todor Kulakov, the manager of Jadran Gottino Foods, was awarded as "The Best Manager of Southeast and Central Europe"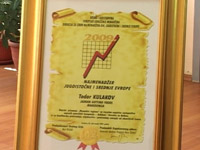 In the presence of a large number of domestic and foreign guests, distinguished managers in the region, at the National Theatre in Sarajevo, was held a traditional 20th ceremony for proclaiming the best managers of B&H, the South Eastern and Central Europe for 2009. Thirty businessmen and companies from different economic sectors were proclaimed the most successful.